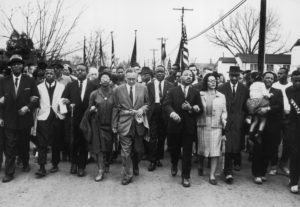 On Sunday, November 12, we will continue viewing the documentary, "Selma: The Bridge to the Ballot". We saw the first twelve minutes last Sunday, and used the rest of the class time to discuss what we had seen and talk about the involvement of some of our classmates in the Civil Rights struggles of the 1960s.
Tomorrow we will see how Martin Luther King, Jr. became involved in the struggle for voting rights in Selma. Here are a few questions we will consider as we watch the documentary:
What brought Dr. King to Selma?
Demonstrators marched to the courthouse every day during the early part of the voting rights campaign. Why did they do that?
Teachers from the local black school joined the protests. Why was this significant, and what risks did they take?

How did the death of Jimmie Lee Jackson affect the campaign?

What happened in Selma after Bloody Sunday made national news?

What evidence did you notice in the documentary of the role faith played in the developing campaign in Selma?

What does that evidence show about the faith of the participants?